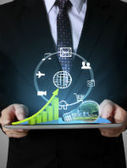 " Webmarketing123's "2014 State of Digital Marketing" report explores the top digital marketing goals and challenges facing marketers this year.
The study, which polled more than 500 marketers across the country, examines both the strengths and the shortcomings of these burgeoning budgets to provide an overview of how most companies expect to allocate marketing spend in 2014. However, while marketers are eager to develop… "
Olivier Milo's insight:
Full of interesting stats on the evolving world of Marketing !
from http://www.scoop.it/t/social-media-by-olivier-milo/p/4013929000/2014/01/10/marketers-struggle-to-measure-roi